Carolyn's Inspiration for Today
All that I am . . . or ever hope to be . . . I owe to God and to the wonderful Mother
He gave to me

Mother always called me "baby." Many times from her bed at M D Anderson she would say "My baby, my baby, what would I do without my baby" . . . But the truth be known . . . I was wondering what was I going to do without my dear Mama.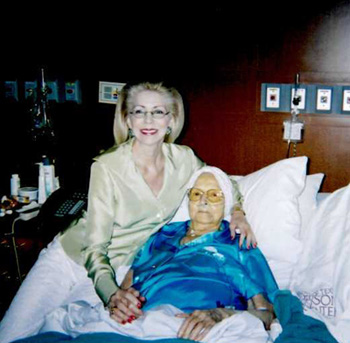 God's Word is alive and well in me when . . . I'm not moved by what I see. . . when I not moved by what I hear. I'm moved by the Word of God . . . which goes against everything that I see and against everything that I hear.

When your Bible is worn and falling apart . . . you won't be.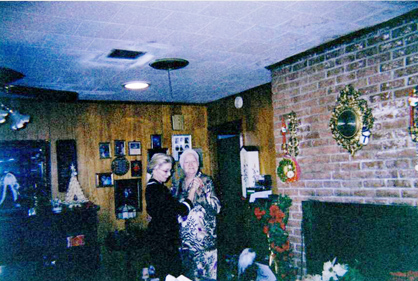 I have always loved music and as a young child and teenager I would often crank up the music and dance all over the house. When I was nine years old I went forward at church and "professed" that I had invited Jesus into my heart. On the way home from church, my father was driving and mother sitting in the front seat. I raised up to the middle of the seat, with both my elbows perched on the back of their seats and rather sadly declared "Well. . . I guess this means that I have to quit dancing." Boy was I wrong! Since I was really saved at age thirty-three, I still crank up the music and dance all over the house. . . but praise be to God. . ."I have a new song in my mouth!" In December, 2004, mother was in remission of the cancer. We were at mother's home and the old Fats Domino song "Walking To New Orleans" came on. Well . . . I just couldn't help myself . . . I started dancing all over the den. Then Mama got to feeling the rhythm, and she got up and we danced together all over the den. My sister captured this wonderful moment by taking out picture. Thank you Jesus for this wonderful memory.

We often hear that we need to increase our vocabulary, but to succeed in life we need to reduce our vocabulary . . eliminate words like impossible, can't be done, no way, never happen. God says "all things are possible, I can do all things through Christ which strengthens me, what is impossible with man is possible with God."

When confronted with a problem or roadblock, look for a way over, a way around or a way through. When God has given you a "yes" and people give you a "no" keep sorting through the people until you get to your "yes."

Establish a reputation as a "yes" person . . . "Yes this can be done, Yes we can do this, Yes we can make this happen."

While others are trying to figure out what to do and how to do it . . . you've already got it done. Promotion follows excellence . . . Discipline follows delay.

Excellence is silent . . . but instantly heard!
People without experience have many biased and invalid opinions. A "good dose of experience" quickly wipes out all opinions. Then and then only is knowledge birthed!

Never say "I don't know what you are talking about" or "I don't know." I was negotiating a large training contract with the president of a big company when he said "One thing that concerns me is protecting my intellectual property rights" and at that moment I'm thinking "right about now I'm concerned about my own intellectual property rights cause I don't have a clue what you're talking about!" Instead I immediately said, "I understand your concerns, let me investigate that and I'll get right back with you." I immediately called our company attorney and was informed about intellectual property rights. I then called the president back and completely answered his concerns and we signed the contract. Develop "professional presence."

Before we are to be used by God, He often puts us through His "boot camp" and like the old song goes "only the strong survive. . . "after that ye have suffered a while, make you perfect, stablish, strengthen, settle you." Don't check out of boot camp . . . Finish the course . . . the benefits are unbelieveable!

Who cares about trying to "brown nose" the boss . . . Two female managers scheemed and presented a proposal to the boss behind my back to move me and all my employees to the midnight shift! They were afraid it was going to happen to them, so they designed a beautiful proposal to convince the boss that I needed to be the one moved. They always went to lunch with the boss smiling at me as they left . . . never inviting me to join them. Their deception didn't work. God took care of it . . . He promoted me out of there! Two times God promoted me out of places of real deception. When we're right . . . God takes care of us . . . He's got your back covered! "For promotion cometh neither from the east, nor from the west, nor from the south. But God is the judge; he putteth down one, and setteth up another," and "when a man's ways please the Lord He maketh even his enemies to be at peace with him, and for do I now persuade men or God? or do I seek to please men? For if I yet pleased men, I should not be the servant of Christ." Our real "boss" is God . . . Please Him!

The Holy Spirit will keep us from making costly mistakes . . . I can't count the number of times that the Holy Spirit has revealed something hidden, a detail overlooked, or something missing that prevented a costly mistake from being made. "My sheep hear my voice and thee follow me; I will lead thee and guide thee in the way that thou should go."

Mentorship is gain without the pain.

Several years ago I attended a prison service with Don Dickerman Ministries in Puerto Rico, and we were told by the chaplin that this women's prison was filled with homosexuality and aids. We never go into the enemy's territory without much spiritual warfare and much prayer. The service was packed out . . . the power of God fell . . . and women were all over the floor . . . wailing and crying out to God. Hundreds were saved and delivered. Seeing God move in such a powerful way like this as I have for so many years . . . well . . . the ordinary just doesn't work anymore.

I also attended the Holiday Prison Unit in Huntsville, Texas with Don Dickerman Ministries and the gym was totally packed with about 500 inmates. Brother Don got up and sang his version of a country song he had rewritten and titled "Shakey Fakey Heart" . . . they just went wild. One inmate ran up on the flatform and started dancing with Brother Don! It was awesome! God doesn't always work in the same way.

Visit
www.dondickerman.com
I used to say , "When a girl comes on to you . . . it's time to do what Joseph did and pull a "Forest Gump and Run Forest Run!" I asked him one time "
My grandson was helping to pull weeds from my flower bed and they were really hard to pull up because of the roots being so deep in the ground. God's Word came to mind and I said "these roots are like the Word of God . . . as we hide God's Word in our heart, and allow it to take deep root in our hearts and lives, God says we won't sin against Him. Utilize those "golden" moments to teach your children and grandchildren.
God's EKG Test

I sat down with my grandson one day and shared the verse Matthew 6:33 "Seek ye first the kingdom of God and His righteousness and all of these things shall be added unto you." I handed him a piece of paper and asked him to write down the things he desired and was seeking in his life. As a typical fifteen year old he wrote . . . I desire football, I desire money, I desire females, I desire cars, I desire basketball, I desire TV, I desire clothes and I desire shoes. I shared with him that if we put God first in our lives He would then provide the desires of our heart and these "things" would be added unto us. Jay loves to mess with your mind so he said "so if I seek God first He's going to give me all the females I want?" I then gave him "the look!" Then I gave him an algebra lesson . . . . I wrote down on a piece of paper and gave him verbal instruction:

A = God
B= Desires and Things

Seek A = You Get B
No seek A = No get B
No seek God = No get females!

Can you pass God's spiritual EKG test? Who or what consumes your thoughts, your time, your energy? What makes your heart flutter with excitement? Is God first place in your heart, or is it things? God says "seek ye first the kingdom of God and His righteousness, and all of these things shall be added unto you." It really is a matter of the heart.




God's Repayment Plan
When I was a young girl, whenever I would act up and get in trouble, my Mama would always tell me . . . "Young lady by the time I get through with you, you're going to wish you had listened to me ."Boy was she right . . . I sure lived with a lot of regret growing up! I sure wished I had obeyed my Mama.My last trip home God revealed to me a simple truth . . .We may think that the enemy has gotten away with all he has stolen from us, and he may even think he has gotten away with all his evil plans . . . But how much more, for we who are Blood Bought. . . Redeemed By The Blood of The Lamb . . . Children of The Most High God . . . shall our great Heavenly Father say to the enemy "For what you did to my child, By the time I get through you . . . I'm going to make you pay them back seven times . . . And by the way, that shame and embarrassment you put them through, by the time I get through with you . . . I'm going to make you pay them back double!God's Word for you today is whatever you think you may have lost. . .whatever the enemy has stolen from you . . . It's not over because by the time God gets through with him, It's All Coming Back and so much greater than you can possibly imagine.Hallelujah!Rejoice . . .payday is coming!


God's $20 Dollar Miracle
I grew up in a small country town, Buna, Texas, and my mind takes me back to a cold winter day in December, 1982. I had been saved for about two months. I was getting ready to go shopping, and having grown up in a small town, I had learned to deal with the many challenges that a small town presents. One of the challenges is that you have to travel to nearby towns to go shopping.Silsbee was a nearby town, and whenever I would drive there, I always took a shortcut that led me by rows of small wooden framed homes. The homes reflected the struggles, the desperation, the hopelessness and the pain of poverty for the people who lived there . . . I saw the peeling paint, broken down fences, older cars with flat tires and broken and tapped windows, and barefooted children dressed only in dirty diapers.
As I drove by, my heart was always moved with compassion for the people living there. I always prayed "God please help these people." I was reminded of my dear sweet Mother's words, who used to always say . . ."There but by the grace of God go I."
This particular day before traveling to Silsbee, I stopped by a local convenience store and cashed a check for twenty dollars

.

However this day, would prove to be no ordinary shopping day.This day . . . would change my life forever.
As I approached the shortcut leading by the homes, I felt a struggle in my spirit and decided not to take the familiar shortcut. Driving away, I heard a small still voice telling me to turn around. I was puzzled by this, but continued to drive away. The

small still voice became overpowering.So I turned around and proceeded down the familiar path.
As I approached the first home, I became totally consumed by the "small still voice," and I felt that if I didn't stop my car that my heart was going to literally beat out of my chest!I was confused and struggled to understand this prompting, but I knew this was the voice of the Holy Spirit. I said out loud, right there driving my car . . . "God, if you want me to stop by one of these homes, you are going to have to show me which one."
I pulled up in front of the first home and waited a moment.I was nervous and
trembling, and absolute fear began to grip my heart.I managed to get out of my car and walked to the front door. A small child, about four years of age, opened the
door and I asked "Is your mother home?" A warm and friendly voice from inside
answered"come on in." I went inside and saw a middle-aged woman sitting at the kitchen table. Another lady was standing behind her rolling her hair for a home permanent. Nervous and trembling, I said "My name is Carolyn . . . and I was sent here." The lady seemed very puzzled and confused by my words, and she asked "by who?" I hesitated and said, "By God . . . and He wants to give you twenty dollars." I reached into my purse, and extended the money towards her. She burst into tears. Sobbing, she came running up to me, grabbed me, hugged me and she would not let me go.She cried over and over, "God bless you, God bless you."Then we both cried.
You see . . . it's different once you've been in need.It really is different once you've been there.
I am certain . . . that God wants to use us to touch the lives of others. I'm
wondering . . .Who does God want to touch through you?
I learned a very important lesson that day: God knows the place I'm in . . . and God knows the place your're in.
That painful place . . . That dying place . . . That place that where you think you're not going to make it through . . . God will make a way when there seems to be no way!!
He's about to shake everything up! He will supply all of your needs . . .What is impossible with man is possible with God!
God will get food to you . . . even if He has to send a raven!
God will send provision to you . . . even if He has to send a total stranger to your house!
God Knows The Place Your In . . . and He's About To Show Up!
Bitter Sweet Relief
Mother often shopped for groceries at the local convenience store in our small town
which also served as a gasoline station and fruit stand.Mother often took me with her to
go shopping , and when I was five years old I remember a shopping trip that was like no other.
Little did I know that this journey would alter the course for the rest of my entire life.
We arrived at the little convenience store, and as usual, I hurried inside to see all of the
candy.My eyes spotted the most delicious looking piece of candy!It cost one penny.I
did not have a penny, but the desire for the candy was overwhelming.Right then and
there, I committed my first crime.I took the candy and hid it in my pants pocket.
On the car ride back home, all I could think about was the delicious piece of candy.
When we arrived home, my Mother's hawk eyes spotted the piece of candy. She asked
if I paid for the candy, and I had to confess that I had stolen it.Mother placed me
back in the car, and we started on what seemed to be an eternity back to the
convenience store.We got out of the car, Mother's firm hand grip in mine, and
without saying a word she placed me before the store owner.As a five year old child,
this man looked bigger than life.My Mother spoke not a word.The silence was
deafening. Mother waited for me to confess. I looked before me and saw this
giant of a man!I turned and looked behind me and there stood my Mother.

I am sure I must have broken out in a cold sweat! I was thinking . . .
I sure knew my Mama loved me, but in the country and during my childhood years,
country folk and my Mama never heard of time out.They grew their own discipline tools right out in the front yard . . . it was called a switch. Mother often sent me to pick out the switch that was to bear my punishment.I knew better than to come back with a small twig!

I really don't remember what I said, but after my confession to the store owner . . . oh what sweet relief!I must
tell you that after that day, I have never thought about taking anything that wasn't mine.
Looking back, I now know that my Mama sure was a smart Mama.Thank you God for
God's Word tells us . . . "Now no chastening for the present seemeth to be joyous, but
grievous, nevertheless, afterwards, it yieldeth the peaceable fruit of righteousness unto to
them which are exercised thereby" (Hebrews ). Thank God for "afterwards."



Lessons Learned From a Thump
I have many memories from my childhood and small country church.My father
served as interim pastor at several churches during my pre-teen years, and my mother
sang in the choir and performed many solos.
Mother was the disciplinarian in our home and was often strict.Oh, but I knew beyond a
doubt how very much she loved me.I was showered with love and affection and sat on
my mother's lap untilI was . . . well I guess I never quit sitting on my Mama's lap.
In church, my sister and I would often sit on the pew directly in front of mother.
Looking back, I think she liked to keep an eye on us.Mother would often use a "gentle
thump" to the back of my head whenever I started talking or acting up.
One Sunday morning, during the sermon, I decided to go to the restroom.The church
was built in such a way, that to get to the restroom, you had to walk down the center
aisle of the church, walktowards the front of the church, walk towards the pastor,
turn to the left, walk in front of trhe congregation and go to the back of the church.
After leaving the restroom, my eyes diverted to the very large stack of church bulletins on
a table.Well, I decided to take all of the bulletins and stuff them into my panties. I hiked
up my dress, and stuffed them all in to make me look big and fat!The things a child will do!
After stuffing all of the bulletins inside my panties, with my stomach sticking way
out,I proceeded back towards my seat with bulletins falling out all along the way!I
walked away from the pastor, towards the congregation, back down the center aisle and
straight towards my Mama.I don't know what in the world I was thinking!My mother's
stern eyes locked into mine.I knew too well that look and I knew in an instant the
meaning of the Biblical words "great sweat drops of blood!"
I sat down on the pew in from of mother, a moment or two passed, and I'm sure I was
breathing easy, and humming the old hymn "It is well with my soul!"
Then . . . all of a sudden . . . from out of nowhere . . . came this intense pain in the
back of my head!Mother's powerful thump had brought immediate repentance and
Looking back at this embarrassing childhood experience, God revealed a great spiritual
truth to me.Isn't this just the way sin and wrong choices affects our lives?It leads us
down a pathway away from God and headed straight towards pain and suffering?
God says, "My son despise no thou the chastening of the Lord nor faint when thou art
rebuked of him: for whom the Lord loveth he chasteneth and scourgeth every son he
received. Now chastening for the present seemeth not to be joyous, but grievous;
nevertheless afterward it yeildeth the peaceable fruit of righteousness unto them which
are exercised thereby."(Matthew 12: 5, 7, 11).
In My Mama's Kitchen . . . Lessons Learned About God
My dear Mother was a wise and skilled cook with precision accuracy on the necessary ingredients for her savory dishes.To enter Mother's kitchen, one had to first enter through the front door of her home. Inside were all the necessary tools for the culinary expert; measuring spoons, measuring cups, grinders, choppers, blenders and all sorts of cooking utensils. The sounds of mixing, chopping and grinding filled the air. Sometimes the heat from the oven made the kitchen really hot, but the aroma signaled something great was about to delight my taste buds!
Mother knew her recipes well, and she compiled many of them by memory. The measuring tools were her eyes.She always knew how much of this, and how much of that was needed. To capture her recipes, I emptied each ingredient from her bowl, and placed it into my bowl. I then carefully poured each ingredient into a measuring cup or spoon, and recorded the measurement.


I soon discovered cooking was not without risk or injury. Sometimes I would cut or burn my fingers, but Mother always had the right ointment, bandage and comforting words to heal my wounded finger.

I remember calling Mother many times to go over recipes and verify ingredients. She always had time to talk with me, and answer all my questions. When I followed her recipe, the result was always a success.If I made a mistake, or altered the recipe, it did not taste as good.
So it is with experiencing God . . . To enter into a relationship with God, we must first go through the front door of Christ.Inside, we have access to all the right tools to equip our lives with success.God receives us just the way we are, with all the "raw ingredients" of our lives. He knows what is missing, and what is needed. He carefully adds a little "bit of this," and a "little bit of that."Trials and hardships often create the right temperature to mold and shape our lives. God desires the sweet aroma of our lives will cause many to ask for the "recipe," and lead others to Him.
Cornstarch has a tendency to become lumpy while thickening in the microwave.Beat often with wire whisk to remove lumps.
"Being confident of this very thing, that he which hath begun a good work in you will perform it until the day of Jesus Christ" (

Philippians 1:6)
Father God, help me to trust you when the hard times and trials come my way
Help me to know you are developing a beautiful work of art within me
You are God of the mountains, of the valleys, and the places in between
I am a trophy of your grace sent to shine brightly in a dim world
May the sweet aroma of my life be a reflection to others
So they may taste the true riches in knowing you.
Mother's Delicious Homemade Banana Pudding

Beat eggs and sugar in large bowl.Slowly add cornstarch and beat again.Add vanilla and milk and beat slowly.Microwave for 4 minutes and beat with wire whisk often to remove any lumps.Microwave until desired thickness (approximately 5 more minutes).
Line serving bowl with vanilla wafers (use approximately ¾ box).Add thinly sliced bananas over vanilla wafers.Pour in the pudding mixture.
**For low carb and low fat diets substitute splenda for sugar, low carb Hood milk or 2% milk, and low fat vanilla wafers.It is just as delicious.

Topping can be added either of cool whip or beat 2 egg whites with a touch of sugar and vanilla. Beat until stiff and brown in broiler until lightly browned.
Christmas Blessing's from The Women' Shelter
While conducting a Christmas program at the Salvation Army's Women's Shelter, I was
moved with compassion for the women and children living there.I met Margaret, a
grandmother who raising her two grandchildren. Margaret seemed much like me, except
she was much older, and she was recovering from a back injury which left her unable to
keep a permanent job.Margaret's daughter was a drug addict.
Sara, Margaret's granddaughter, was eleven years old. She was like most girls her age.
She was excited about Christmas, but wondering if Santa was going to come to her home
which was now at the shelter.Billy, her grandson, was six years old.He was full of
energy, but seemed to be unconcerned or even aware of his surroundings.
As I walked into the very small room in which this small family called home, I could
hardly hold back the tears.The room had two twin beds which they shared, and they had
to share a bathroom with another family.I listened as Margaret showed me the one pair
of shoes that Sara and Billy had each.She told me that she did not have any money to
provide Christmas for them.Margaret's eyes filled with tears as she talked about Christmas.
As a single working mother and grandmother, I knew first hand of Margaret's most
difficult and nearly impossible task.My heart was again moved with compassion, and
God began to speak to my heart about this family. My dear mother used to always say
"there but by the grace of God go I."
I was limited in money myself, but I knew I had to do something.I asked Margaret
what shoe size Sara and Billy wore.I decided to go shopping at the Family Dollar Store
to buy toys and gifts.I loaded up!I then went shopping for shoes at Payless Shoe Store.
I bought three pairs of shoes; one pair for Sara and Billy, and one pair for Margaret.I
purchased wrapping paper and bows.
I hurried home and wrapped the gifts!I was so excited!I called the shelter and invited
Margaret, Sara and Billy to have Christmas Lunch, and to spend Christmas Day in my
home.Margaret cried with tears of joy.I did not tell her about the gifts.
On Christmas morning, I drove to the women's shelter and picked them up.Anticipation
mounted, as I drew near to my home.Margaret, Sara and Billy enjoyed a Christmas feast
of smoked turkey and ham, chicken and dumplings, pecan pies, sweet potato casserole,
After lunch, we all gathered around the Christmas tree.My daughter and I then began to place each of their gifts at their feet.Margaret began to cry.Sara and Billy anxiously tore into their gifts!
Sara and Billy had a new pair of tennis shoes and some toys.Margaret also had a pair
of new shoes and a love gift of fifty-dollars.There are no words to describe this scene.
This was the best Christmas I have ever had.You see . . . it really is different once
you've been in need . . . it realy is different once you've been there.
"If ye then, being evil, know how to give good gifts unto your children, how much more
shall your Father which is in Heaven give good things to them that ask him?"
Giving has immense power when it is done in the dark for it is displayed on God's
big screen TV in Heaven.Giving blesses the giver before it ever gets to the receiver.
Giving is only giving what you have been given to you.For the greatest gift is being
forgiven (

Duke - employee at M D Anderson

).




One Sunday afternoon after church, I decided to stop by another local nursing
home.I went inside and asked the receptionist if there were any residents who did not
have family or friends.She thought for a moment, then took a small piece of paper,
wrote something down.I opened the piece of paper and read the words, "Lena Ketner.
Room 13-B."I thanked her and then left.I drove to a nearby drugstore and purchased
bath power and some bath lotion.After wrapping the gifts, I returned to the nursing
home.Inside I saw many frail elderly men and women with longing eyes that seemed to
draw me to them. I thought of my dear Mother and how she so often reached out to the
needy in our community, and looked upon these sweet elderly people as seeing my dear
mother.I asked for directions to Lena's room, and then proceeded down a long
hallway and came to room 13-B.
I knocked on the door and a voice from inside replied "come in."Inside was a very
young looking woman, about fifty-five years old with short straight grey hair.I
introduced myself and spent the next hour getting to know Lena.She told me about the
automobile accident that had left her with minor brain damage and the inability to speak
clearly.Lena said she did not have family to help care for her.
For the next six months, I visited Lena many times.I delivered Thanksgiving dinner,
pecan pies, socks and many other things that she needed.One afternoon, we talked about
God.I told Lena how much God loved her.I shared my simple story of how God had
changed my life.Lena listened intently.Soon tears began to stream down her face.I knew this
was a divine moment, so I took Lena's hands in mine and asked her if she knew for
certain that if she were to die that she would go to Heaven?More tears fell.We prayed a simple prayer right there, and Lena invited Jesus into her heart . . . then we both cried.
The lesson that I learned was teach me to listen Lord when you speak in whispers.
Preach the gospel at all times, using words only when necessary."My sheep hear my voice, and I know them, and they follow me."John 10:27
Giving is one of the best rewards.It is the prerequisite for experiencing the fullness of
living.It is taking what we have and offering it to another so that they may gain.It has
untold worth that ripples through the lives of those touched by it.Giving has immense
power when done in the dark.Giving blesses the giver before it ever gets to the receiver.
For the greatest gift if being For-Given(

Duke - employee at M D Anderson Cancer Hospital).



Let Your Light Shine
One Sunday afternoon, I stopped by a local nursing home.As I often did, and I asked if
there were any residents there who did not have family or friends.The receptionist
wrote down the name "Gilbert Howell - Room 10C."I walked down the long hallway
And arrived at room 10-C. I knocked on the door, and went inside the room.Inside, I
met a sweet Christian man named Gilbert Howell who was reading his Bible.We
discussed his stay at the nursing home, and he told me his only limitation was his need
for help with his daily medications.Mr. Howell did have family, but they did not live
near by or visit him often.
Mr. Howell and I had a wonderful conversation about his life, his family, and his great
faith in God.Over the next few months, I brought Mr. Howell socks, pecan pies
and other small gifts.I captured these moments by photo.
I told Mr. Howell to call me if he ever needed anything.I gave him my office telephone
number and business card.About one month later, the secretary in my office
informed me that I had a call from a "Mr. Howell."I smiled and took the call.The
tender and faint voice on the telephone greeted me, and we visited for a few moments.
Mr. Howell then told me he needed some "ex-lax" (laxative), and asked if I could
possibly bring him some.I told him that I definitely would, and that he could expect
After work, I stopped by a drugstore and purchased the ex-lax.I hurried to the nursing
home, and delivered the laxative to Mr. Howell.The sweet smile and expression of
appreciation lit up his small room and made me almost cry.
God spoke to me in that tender moment, and I was again reminded of my dear Mother's
words "there but by the grace of God go I."I realized how much our dear God loves us,
and how He wants to use each of us to reach out and meet the needs of those who
could not help themselves.God's voice that day was inaudible, but rand loud and clear
"Ye are the light of the world.A city that is set on an hill cannot be hid. Neither do men
light a candle and put it under a bushel, but on a candlestick and it giveth light unto all
that are in the house.Let your light so shine before men, that they may see you're good
works, and glorify your Father which is in heaven."Matthew 5:14-16.
March 17, 2004: During my quiet time this morning God began to download many inspirations.
Heavenly Tidbits downloaded from my Father God This Morning:
God's not confused by all this hoopla going on today . . . the question is . . .

are you?
Readers are leaders . . . Leaders are Readers
Thirst

for knowledge . . . & you're on your way to college
Read you lead . . . don't and you won't
The Blame Game is the game losers love to play; It's always somebody else's fault they love to say
Assume responsibility for your own success . . . Responsibility . . . it's a great way to dress
To get somewhere you must have a plan . . . Where are you going?
Tomorrow is too late . . . today will determine your fate
Get up on your feet . . . . that's the first step to ensure your enemy's defeat
Listen and learn from only the wise . . . listen to others will cause you to cry
Anger destroys . . . get rid of it . . .

it's not a toy
Get rid of your sins . . . don't and they will surely do you in
Get off your big fat can . . . & learn all you can. .. Tomorrow is too late. .. Today is the date
I think I can. . I think I can . . . a nursery rhyme, but right on time
Respect yourself . . . Teach others how to treat you
Don't settle for less . . . only causes a big fat mess
God's Word will show you the right way . . . Don't listen to Satan, he wants to lead you astray
Kind words lead to life, Cruel words cut like a knife
Healthy words = Wealthy lives
Read God's Word and You Win. . Don't, and You will wish you had been
In God's economy the way up ?

is down ?. "Humble yourself in the sight of the Lord, and He will lift you up!"
Humility comes before Greatness!

Pride comes before a fall!
Don't lie . . . this sin sent Jesus to die
Don't steal . . . this sin sent Jesus to Calvary's Hill
Don't lust . . . This sin caused Jesus to be crushed
Control your thoughts . . . control your life
Change Your Thinking & Change Your Life
Don't mess around with sin . . . it's plan is to take you down
Birds of a feather flock together . . . Great Nannie used to say . . . you are what you eat . . . you are what you watch . . . you are what you think . . .

you become who you hang with. . . Hang with winners and you become a winner
You say no big deal . . .

no one is watching . . . I beg to differ . . ." God's eye is on the sparrow and I know He's watching me" ( God really does have binoculars in Heaven!)
What God has to say about beautiful women . . . Proverbs 11:12 . . . "A beautiful woman lacking discretion and modesty, is like a fine gold ring in a pig's snout."
(Discretion means good sense and judgment, knowing how to act properly; modesty means dressing without revealing your body in a sensuous way) What a hideous picture . . . a pig dressed up with gold jewelry
Well, I need to get busy with my plan on where I'm going. Have a plan for success and you will succeed. Failure to plan is just plain failure. Wow, seems I can't shut the thoughts down. God is so good . . . get to know Him, He knows you inside and out.
He has a plan for success for your life, read it and walk in that success!
Prayer for Healing and Wholeness
Father God, I'm extending a personal invitation to you to come into my heart and into
my life . . . into my home. No RSVP required for I know you will come. You already have the directions to my home, and you possess the key to my heart. My heart and my home are in need of cleaning and much repair. Some rooms are totally broken down.Many rooms are dark. Many rooms have cobwebs from my painful past. The cobwebs are blocking my view of you.Some rooms in my home are too costly to repair, but you sent your son Jesus to pay the price.
Lord Jesus, I know that there is no charge for your service for it is free, but I know that I
may become sore from all of the heavy lifting and moving things around.I know that I
might feel some pain from dealing with all the broken and dirty things.Lord, I ask that
you make my heart clean.Make my heart whole.Touch my broken heart with the
healing ointment of your mercy, your grace and your forgiveness.
Thank you, Lord Jesus for healing me and for making me whole.
In Jesus Name,

Amen

Prayer for Salvation

God says "I am the way, the truth, and the life, and no man cometh to the Father but by me. That if thou shalt confess with thy mouth the Lord Jesus, and shall believe in thine heart that God hath raised him from the dead, thou shall be saved. For whosoever shall call upon the name of the Lord shall be saved. For by grace are ye saved through faith; and that not of yourselves; it is a gift of God: Not of works, lest any man should boast.

Father God, please forgive me of my sins. I believe that you died for my sins, and the best I know how, I ask you to come into my heart and into my life and change me.

Thanks you Father for giveing me the free gift of erternal life.

In Jesus Name, Amen

Name: ___________________________ Date:____________________

If you prayed this prayer, please send me an e-mail to let me know of your decision to accept Jesus Christ. You have a brand new Father of which you need to get to know. He has a great plan for your life. We get to know Jesus by reading His Word, the Bible. I suggest that you start reading the book of John which is in the New Testament. If you will spend time with your new Father every day, He will reveal himself to you and become very personal to you. Also, get involved with a good Bible based church and confirm your decision to accept Christ by making it public at your church. Visit with the pastor about baptism as this will be your first step of obedience. God always blesses obedience in our lives. Print this information as a certificate of your new birth and as a reminder of your decision.